Close Your Eyes & Think of Maine
It's something in the ocean breeze that gently wakes you on a summer morning, or in the storm that lulls you to sleep on a winter night. This is someplace special.
Our kind of hospitality was invented in Maine. Our expert staff is committed to providing personal attention, offering you elegance you can enjoy in your most comfortable clothes.
Each of the Inn's sixty-five guest rooms reflects a piece of the Inn's heritage. All are equipped to ensure you a memorable and relaxing stay, graciously accented with fine antiques or period reproductions. Yet every modern amenity is close at hand.
"I am hungry for the sea's edge, the limits of the land,
where the wild old Atlantic is shouting on the sand."
– John Masefield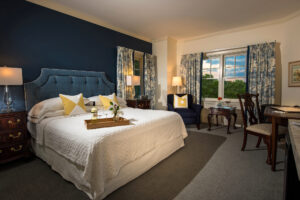 York Harbor Inn – Tradition
York Harbor has always been one of Maine's loveliest and least-crowded seaside resorts. Surrounded by oceanfront estates, the harbor escaped the commercialization that altered some of Maine's better-known resorts. Each of the many additions to the Inn's 300 year-old common room reflects something of its era. You can trace the Inn's history by strolling through its maze of corridors, a fascinating quilt of architectural styles.
The York Harbor Inn is a 65 room Oceanfront Resort with six separate lodges for guests. Lodging accommodations range from simple but elegant Country Inn rooms to luxurious guest rooms with Jacuzzi spa tubs, fireplaces, ocean views, balconies and heated tile floors. Pet Friendly Rooms are here in Maine too! We are Dog Friendly at Harbor Crest Inn.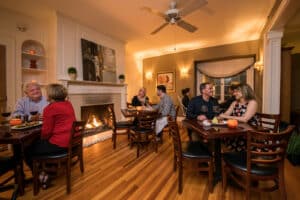 We have three dining options to satisfy all tastes and palettes. The 1637 dining room provides an oceanview dining experience, or our more casual Ship's Cellar Pub, which features the same great menu served in an atmosphere built to recreate the "down below" of a fine sailing vessel. Our seasonal Chapman Tavern at Chapman Cottage offers a small plate menu with outdoor seating on our patio and deck.
The York Harbor Inn is the perfect destination for groups. Whether you are looking to host your annual reunion, a Corporate Retreat, your company Holiday party, a rehearsal dinner or your Wedding Reception. You will find the York Harbor Inn perfect for all of your groups needs.